We Use Advanced Dental Technology
Dentistry is an ever-evolving field that is constantly producing better and better tools for quality care. Here at Charlottesville Blue Ridge Dental and Crozet Blue Ridge Dental, we're proud to incorporate some of these modern techniques into our approach for the sake of our patients, improving their comfort, the speed of treatment, the precision of our results, and more. If you're interested in learning more about this technology or scheduling an appointment at either location, please don't hesitate to contact us. Our team can't wait to meet you!
Intraoral Camera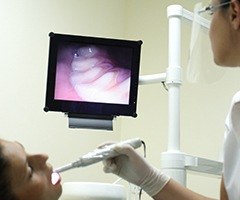 Intraoral cameras are excellent diagnostic tools that help make the process of examining a patient's smile much more comprehensive and informative. The process is simple – we'll insert a camera-tipped wand into your mouth and adjust it so as to capture plenty of high-resolution images. These images are sent to our computer system and then to a monitor in the treatment room. Not only do our doctors get a closer look at any potential concerns, but our patients can also see exactly what we're seeing for added educational benefit.
Digital X-Rays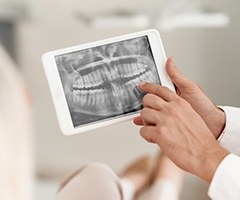 Digital X-rays are rapidly becoming the status quo in most dental offices, and for good reason. Compared to traditional film, this modern technology is faster, safer, and more accurate. Images don't have to be developed in a darkroom with hazardous chemicals – they're viewable on our computer screen seconds after capture. Any radiation exposure is also reduced by up to 80%, which benefits you and your family's wellbeing.