Full & Partial Dentures
Improving Your Daily Life With Customized Replacement Teeth
If you're missing all of your teeth, you're not alone. According to the American College of Prosthodontists, about 40 million other adults face the same struggle. Whether you have several gaps in your smile or you're missing an entire arch of teeth, it can impact your daily life and overall wellbeing by making it difficult to complete everyday tasks like eating and speaking. Fortunately, at Blue Ridge Dental, we offer customized, natural-looking full and partial dentures in Charlottesville to restore the function and appearance of your mouth. To find out if dentures are the right tooth-replacement solution for you, contact our office to schedule a consultation today.
Full Dentures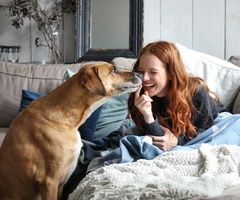 When patients are missing an entire arch of teeth, we often recommend full dentures to replace them. These are a complete set of natural-looking replacement teeth that are attached to a gum-colored acrylic base. The base is specially formed to comfortably fit in your mouth and use natural suction and denture adhesive for added stability. For patients who have had dentures before and are looking for a new tooth-replacement option that's more permanent and unwavering, we also offer implant-retained dentures
Partial Dentures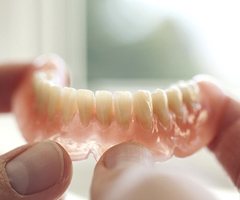 For patients who have multiple gaps in an arch of their teeth, we'll likely recommend partial dentures to fill them. Instead of needing to have your healthy remaining teeth removed to accommodate a larger prosthetic, partial dentures are strategically designed around your current oral shape and structure. Natural-looking replacement teeth are placed on a small gum-colored base that's connected to an acrylic or metal clip or bracket. This base is designed to strategically fit behind your existing teeth and remain virtually unnoticeable. It can easily be taken in and out of your mouth, allowing for easy cleaning and convenience. Partial dentures in Charlottesville also keep your natural teeth from shifting out of place and becoming misaligned.
Implant-Retained Dentures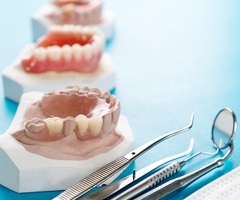 For patients who are looking to replace their dentures in Charlottesville with a more modern solution that offers a variety of unique benefits, dental implants are another great tooth-replacement option. These consist of titanium posts that are surgically placed under the gums to securely hold dentures, bridges, or crowns in place. The implants naturally fuse with your jawbone through a process called osseointegration, keeping it from eroding due to a lack of stimulation and blood flow. If you'd like to learn whether you're a good candidate for dental implants, be sure to schedule a consultation today.
Caring For Your Dentures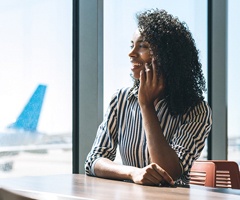 Even though your dentures are replacement teeth and can't develop cavities, it's still important to take proper care of them to avoid a buildup of bacteria in your mouth and ensure that they last for years. Here are some maintenance tips to help you get the most out of your restorations:
For partial dentures, along with regularly sanitizing and cleaning them, be sure to also brush and floss your natural teeth to preserve them.
Use non-abrasive tools such as a denture brush and denture-cleaning toothpaste to clear bacteria from your replacement teeth.
Place your full dentures in a cup of water or denture soaking solution every night to help them maintain their shape and comfortable fit.
Place a towel on the counter wherever you're cleaning your dentures, so they don't accidentally slip off and become damaged.
If you need any additional maintenance tips or cleaning instructions, don't hesitate to contact our office. Our team of professionals is more than happy to help assist you!