Invisalign Indications
How Clear Aligners Can Create Necessary Space
At Blue Ridge Dental, our team of dentists sees all types of orthodontic problems. One of the most common is crowded teeth, which can make it difficult to effectively maintain good oral health or a pleasant aesthetic. To help patients suffering from this problem, they are pleased to provide Invisalign clear aligners. These unique and custom-made trays work to shift teeth into the proper position, creating necessary space and giving patients a chance at a healthier smile. If you have crowded teeth and are considering Invisalign, contact us today to schedule an appointment.
What Can Happen if Crowded Teeth are Left Untreated?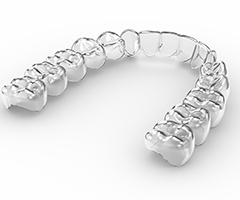 If you want to avoid the following dental problems, it is strongly suggested that you seek orthodontic treatment for your crowded teeth:
Tooth decay
Gum disease
Cavities
A misaligned bite
Overcrowding makes it much more difficult to effectively brush and floss your teeth, putting you at a higher risk for all types of serious dental problems. Also, while you may think decay and gum disease only affect your mouth, it can eventually lead to health-related conditions developing and wreaking havoc on your overall wellbeing.
How Can Invisalign Help Treat Crowded Teeth?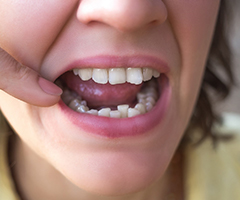 Invisalign in Charlottesville has become one of the most popular solutions for orthodontic treatment. While traditional metal braces prove effective, many adults prefer a more discreet and flexible solution that produces quicker results.
To start treatment with Invisalign, you will need to schedule a consultation with one of our highly-skilled dental professionals. After examining your teeth and determining you are an eligible candidate, they will take impressions that will be used as a blueprint for lab technicians to create your customized aligners.
After several weeks, you will return to retrieve your Invisalign aligners and detailed instructions. While each patient's condition is different, you can expect to wear your trays for 20-22 hours each day for 1-2 weeks at a time. You will then be expected to swap out your current trays for the next available set.
When this happens, you will begin to notice a shift in your teeth. You may experience minimal discomfort as a result; however, your crowded teeth will be moving to take the shape of your new aligner. An over-the-counter pain reliever and cold compress can be used to minimize discomfort.
Throughout your treatment, you will need to maintain your regularly scheduled dental appointments to allow our team to review your progress and make any possible changes. These visits will be quick so you can get back to your normal activities.
Depending on the severity of your overcrowding, the timeline for completed treatment may vary, but most patients are finished with Invisalign in 12 months.
Once you are finished with treatment, it is likely you will need to wear a retainer to prevent your teeth from shifting back into their original position. In the beginning, you can expect to wear it every day, all day, but after several months, your dentist in Charlottesville may suggest that you only wear it at night.