Crowns and Bridges
Do you have a weak or missing tooth? You don't have to live with the problem forever. Thanks to bridges and crowns from your dentist in Charlottesville, your smile can be repaired quickly and easily.
Dental Crowns
Dental crowns are caps that your dentist places over a tooth to restore its appearance and function. A dental crown is often used to: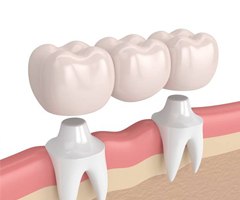 Protect a tooth after it has undergone a root canal
Restore a tooth that has suffered decay to the point where a filling cannot repair it
Prevent a weak tooth from fracturing
Protect a tooth that has already fractured
Improve the appearance of a misshapen or discolored tooth
In the past, metals like gold and silver were the most popular materials for crowns because of their strength and durability. However, many patients today prefer porcelain instead because it blends seamlessly with the natural color of teeth.
Tooth Bridges
A traditional tooth bridge is one of the fastest ways to replace a missing tooth (or teeth). It consists of a pontic (an artificial tooth) suspended between two crowns. The dentist places the crowns over the teeth that are adjacent to the gap in the smile.
There are a couple other types of bridges as well, including: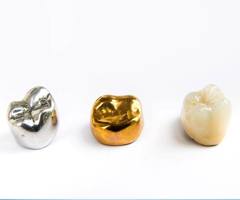 Cantilever bridges. These are anchored in the mouth by a crown on just one side of the bridge.
Implant supported bridges. Instead of using crowns, these stay in the mouth via dental implants. They may last much longer than other types of bridges and provide multiple oral health benefits.
Maryland bonded bridges. These are attached to the natural teeth via metal or porcelain wings instead of crowns.
If you need a bridge, we'll be sure to discuss all of your tooth replacement options with you and help you settle on one that is best for your circumstances and budget.
How Bridges and Crowns Are Made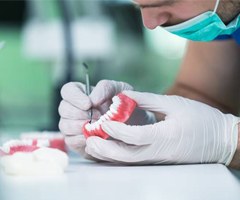 Once you and your dentist decide that a bridge or crown is the appropriate treatment to get your smile back on track, we'll have to prepare your mouth. This may involve filing down your teeth or filling a weak tooth so your natural pearly whites fit well under the crowns and are strong enough to support the restorations.
Then, we'll take some impressions of your mouth. The impressions serve as the guides for creating your crown or bridge; we want your bite to feel as natural and comfortable as possible once your new smile is in place. A laboratory will create your custom restoration, and we'll install it as soon as it's ready.
How Long Bridges and Crowns Last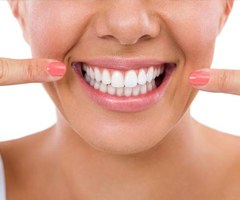 The lifespan of your bridge or crown will depend on the material it is made of as well as how you care for it. In general, you can expect a porcelain restoration to last for between five and 15 years. However, some patients find that their bridges and crowns last much longer. By keeping up with a good oral hygiene routine, being careful to avoid habits that could break your bridge or crown (like chewing on ice), and regularly visiting your dentist, you can ensure that your restored smile endures for as long as possible.
Bridges and crowns are remarkable treatments that can quickly get your oral health back on track. If you would like to talk to us about our restorative services, please get in touch!