Find Fast Emergency Dentistry in Charlottesville and Crozet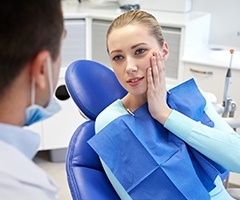 Dental emergencies never happen at a good time. Maybe you're experiencing searing sensitivity in the back of the mouth while trying to stay busy at work, or maybe your daughter trips down the stairs and cracks a tooth right before school. Whatever your family's circumstances are, you need help now in these situations.
At Charlottesville Blue Ridge Dental and Crozet Blue Ridge Dental, our staff always has built-in coverage for emergency situations. Dr. Minutella, Dr. Feehan, and Dr. Schoeb are experts at relieving pain fast, and you can trust them to help you get back to your regular routine in record time. We'll do everything in our power to see you on the same day as your initial call, so don't hesitate to contact either of our locations.
Of course, you may be unable to reach our offices right away. In this case, here are some helpful tips for how to proceed when facing common dental emergencies:
I've Broken My Tooth
If any large pieces of the tooth have come loose, keep them close by and bring them with you to your emergency appointment. Facial swelling is likely to occur, but you can minimize it by holding a cold compress against the appropriate cheek.
I've Knocked Out My Tooth
Do you still have the tooth? If you do, time is truly going to be the biggest factor in whether or not it can be successfully restored in your smile. Contact us as soon as possible, and then try to place and hold the tooth back in its original socket. If the tooth is visibly dirty, other great options are tooth preservation solutions such as Save-A-Tooth or saline. If you don't have any of these options handy, place it in a container of milk. Water is not a good option. The goal is to keep your tooth as moist as possible (in as natural of a solution as possible) until you reach one of our offices.
I Have a Really Bad Toothache
Sometimes, oral pain happens because the patient has a large piece of food or other foreign debris lodged against the gum tissue. To rule out this possibility, try flossing and rinsing your mouth. Not any better? It's time to call us. In order to manage the pain, it's fine to take over-the-counter pain killers. However, don't place aspirin directly on the gums, as it could burn.