Dental Implants – Charlottesville, VA
Seamlessly Replace Missing Teeth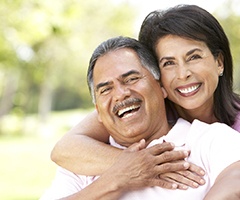 An incomplete smile can make it difficult for patients to eat their favorite foods, chat with friends, and even show off their teeth confidently in everyday settings. While our dentists can't exactly turn back the clock on what was lost, dental implants in Charlottesville are the next best thing to a natural tooth. This permanent and appealing reconstructive solution rebuilds lifelike teeth in their entirety, and they won't require any nearby teeth to be negatively affected by the placement.
Curious whether implants are right for you? Read below, then contact one of our practices today and schedule a first consultation! We look forward to helping you form a "road map" that will lead you back to the healthy, attractive, and complete smile you deserve.
Benefits of Dental Implants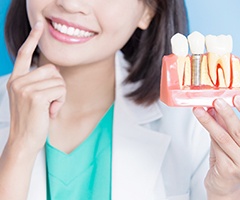 When it comes to wanting the best restorative method for replacing missing teeth, the benefits offered by dental implants outweigh all other forms of treatment. Here's how:
They last longer – Dental implants can last decades if not a lifetime with minimal maintenance.
They offer a natural look and feel – Patients can feel confident in their overall appearance and the ability to eat, chew, and speak.
They're easy to clean – All an individual has to do is brush, floss, rinse, and maintain regular dental appointments to keep them clean.
Indications for Dental Implants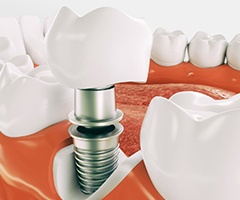 After a clear examination of your mouth, your dentist in Charlottesville will be able to determine the type of dental implant you will need. This versatile treatment method can help patients missing one, multiple, or all their teeth.
Missing Single Tooth
Using a single titanium post and abutment, the procedure is completed with the placement of a customized dental crown. An all-ceramic crown is typically the right choice. This crown will fit right in beside your original teeth, and their health won't be compromised by the addition.
Missing Multiple Teeth
Patients missing multiple, consecutive teeth along the top or bottom row will receive two implants, abutments, and an implant bridge, which consists of three dental crowns fused together. Implant-retained bridges can be used to replicate multiple missing teeth in a row. This restoration will attach securely to two implants, one on either side of the gap.
Missing All Teeth
If you've experienced a significant loss of teeth, implants can still often be used successfully to provide functional and enduring replacements. Implant-retained dentures are designed to be attached over just a small number of implants, which makes this method more cost-effective than if each individual tooth was restored with its own implant. Your prosthesis will look natural, feel natural, and help you enjoy greater oral health benefits well into the future compared to a traditional denture.
If you want your new denture to have the same level of permanence as the original teeth, we'll recommend a hybrid prosthetic. It will be anchored in place over the implants, and only our team will be able to remove it. If you'd prefer to maintain the denture's removable nature, overdentures could be the right choice. We'd be happy to explore these options with you in greater detail during your first consultation.
Implant Placement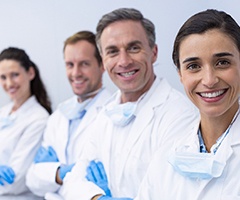 Once we've determined that you're a good candidate for dental implants, the process of receiving them will require several steps and appointments. First, the implants themselves will need to be inserted into the jawbone so that they can function as new "roots." Tooth roots are essential for a healthy and well-supported smile, and they will also prevent the jawbone from deteriorating over time, which is a serious concern after tooth loss.
At Charlottesville Blue Ridge Dental and Crozet Blue Ridge Dental, patients won't have to worry about being referred to a separate specialist for this surgical procedure. We can complete most procedures right here in-office, making your experience more convenient and comfortable.
Start-to-Finish Dental Implant Treatment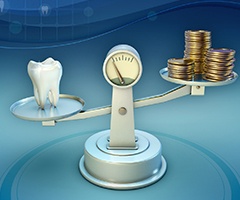 No one wants to receive a referral for treatment outside the dentist office. Being comfortable with a dentist who knows your oral health history and the individual situation can make the process of receiving dental implants much easier. Thankfully, at Blue Ridge Dental, our team can perform most procedures. From the initial consultation to the placement of your implant restoration, we can make it possible for you to receive your completed, fully restored smile all in one location.
Not only does staying in-house for treatment make it more comfortable and convenient for you, but it reduces your time traveling to another specialist.
All-on-4/Teeth-in-a-Day
All-on-4 is an excellent reconstructive choice for patients who are looking for fast, comprehensive "teeth" that will help them get back to living their life to the fullest without delay. Like the name of the procedure suggests, our doctors will use four or more implants that are placed at strategic angles to support a full-arch denture. Better yet, your new prosthetic can be placed over the implants immediately following their surgical insertion – no waiting required. After your mouth has healed from the initial procedure, we will invite you back to the practice so that we can replace the temporary denture with a reliable permanent version.
Teeth Xpress
If you have always wanted to enjoy the benefits of dental implants but do not want to undergo a lengthy treatment process, Teeth Xpress may be right for you. You can replace your missing teeth using an immediate load dental implant solution. Using Laser-Lok technology, the posts are strategically placed into your jawbone for the stable and predictable placement of your dental implants. This helps promote a successful healing process while allowing you to replace your teeth the same day as your placement surgery.
Understanding the Cost of Dental Implants
There are many factors associated with the cost of dental implants. If someone you know received a dental implant bridge, but you only need a single tooth implant, you'll be less likely to spend the same amount simply because you do not need more than one implant.
The only way to receive a clear estimate is to schedule a consultation with one of our dentists. During your visit, you will learn about each aspect of the procedure and find out how much you can expect your new restorations to cost.
Some of the factors associated with dental implant placement include:
Dental work (pre-implants) such as bone grafting or gum disease therapy
The number of implants you will need to have placed in your mouth
The location in which the implants will be placed
If you will need sedation or anesthesia
The types of material the dentist will use