Veneers
Transforming Smiles in Charlottesville
If you want to brighten, straighten, or perfect your smile, the Charlottesville Blue Ridge Dental team is here to help. Our skilled cosmetic dentists offer many treatment options, and we create treatment plans personalized to meet your unique needs. Porcelain veneers in Charlottesville are some of the most popular cosmetic dentistry services we provide. These versatile solutions can be used to correct or conceal any number of cosmetic flaws. When you're ready to get started, call our dental office to get started with a cosmetic dentistry plan.
What are Veneers?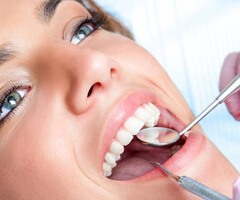 Veneers are thin sheaths of dental grade porcelain that affix to the front surfaces of teeth to correct and conceal cosmetic flaws. Before placement, these veneers are ultra-thin, but once in place, they can correct cosmetic flaws and strengthen teeth.
Veneers are recommended in many situations, including the following:
To conceal tooth staining when traditional teeth whitening proves ineffective
To correct several minor or moderate smile flaws like chips and cracks
To address orthodontic issues like gaps between teeth or crowding
To build up tooth enamel following extensive wear
No cosmetic dentistry treatment will work in every situation, but porcelain veneers are a versatile solution that can be effective for many patients. During your cosmetic dentistry consultation, we'll work with you to create a personalized treatment plan that addresses all of your cosmetic dentistry concerns. Some of the reasons patients choose porcelain veneers include:
The high-quality porcelain is stain-resistant, so you can enjoy your favorite foods and beverages while maintaining a flawless appearance
Veneers can be used to correct a number of flaws all at once, quickly and effectively creating a beautiful smile
You don't have to worry about spending years undergoing more advanced restorative dentistry or orthodontic services when you can create a flawless smile with veneers
What is the Process of Receiving Veneers?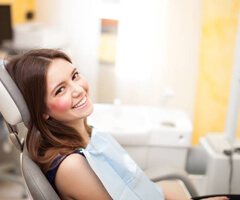 Veneers are placed over the course of two trips to our office. During the first appointment, your cosmetic dentist in Charlottesville will prepare your teeth by removing a small amount of surface tooth enamel. This makes it possible for the veneers to fit within the natural line of the smile. Once your teeth are prepared, we will capture impressions of your smile and create a design for our dental lab. Finally, we will place temporary veneers to protect your smile.
Once we receive the custom veneers from our lab, you will return for the second appointment. During this shorter follow-up visit, we will remove the temporary veneers and replace them with custom-made porcelain veneers. Our team will make sure they are aligned and look completely natural before allowing you to leave and begin enjoying your brand-new smile.
Benefits of Veneers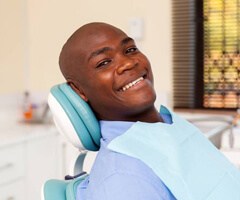 Veneers are one of the most popular cosmetic solutions available. Known to transform smiles, they also provide a host of benefits you can expect to enjoy, such as:
Improved aesthetics and boosted confidence when smiling and speaking to friends, family, and colleagues
A longer-lasting restoration that will remain in place for a decade or more with proper care and maintenance
A less invasive cosmetic treatment that doesn't require as much of your natural tooth structure to be removed
Porcelain material that is more stain-resistant than traditional tooth enamel
Quick and effective results in only two dental appointments
Material that is durable and designed to stand up to the daily wear and tear you place on your teeth