Single Tooth Implants
Fully Restoring the Roots and Crowns of Teeth
Your teeth are meant to work in a set; if even one is missing, it could adversely affect your oral health. The remaining teeth could move out of alignment, causing them to wear down faster and increasing the risk of developing cavities and gum disease. Also, without the stimulation of biting and chewing, your jaw will start to lose its density; as your jaw deteriorates, it can cause you to look older. At Blue Ridge Dental, Dr. Minutella and Dr. Feehan can help you find a high quality replacement for your tooth.
Single Tooth Replacement Options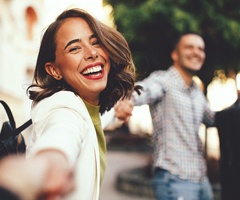 There are two main options when it comes to single tooth replacement: dental bridges and dental implants. A bridge is a pair of crowns with a prosthetic tooth between them; the crowns are permanently attached to healthy adjacent teeth, allowing the prosthetic tooth to fill the gap. The bridge will look and feel very natural, and it will prevent your remaining teeth from drifting into the gap. And of course, it will let you speak and chew normally again.
Dental implants, on the other hand, don't need to rely on natural teeth to support because they actually replace the tooth from the roots up. An implant post is made out of titanium and fuses with your jawbone through osseointegration; a dental crown is permanently attached to the post to serve as your new tooth. Since the implant acts as a root for your new tooth, it provides improved stability and chewing power. Also, the post will stimulate the jaw and help keep it healthy.
Benefits of Implant Supported Single Tooth Replacement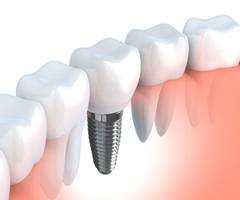 Dental bridges have plenty of benefits of their own, but if dental implants are available, they can offer several advantages:
More Conservative Treatment: With bridges, a small amount of healthy dental structure needs to be removed to make room for the restoration. Dental implants, on the other hand, don't require any changes to the remaining teeth at all.
Jawbone Density: Dental implants are the only kind of tooth replacement that interacts directly with the jawbone and stop it from deteriorating.
Natural Feel: Thanks to the implants fusing with the jaw, your new teeth will feel much like your natural teeth.
Lasting Longer: A dental bridge normally needs to be replaced or restored after about 10 years. Meanwhile, implants can last about 30 years with only basic maintenance – in other words, regular brushing, flossing, and checkups.
Schedule Your Dental Implant Consultation Today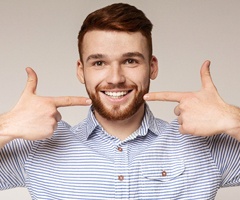 The longer you wait to replace a missing tooth, the worse your oral health could get, and the more complicated the process of replacing it could become. Don't wait another day to fill in that empty space; contact Blue Ridge Dental today to schedule a consultation. Our team of expert dentists can examine your oral health and help you determine whether dental implants or another type of restoration is the best solution for your tooth loss.