Relieve Your Dental Fear & Anxiety
We get it – no one is counting down the days to their next dentist's visit with gleeful anticipation. On the contrary, dental-related phobia is a serious problem that affects children and adults alike, making it more difficult for them to receive the care their smiles need to thrive.
At Charlottesville Blue Ridge Dental and Crozet Blue Ridge Dental, our teams do everything in their power to help patients feel genuinely comfortable with us. If these efforts aren't quite enough, though, we have a back-up anxiolytic (reducing anxiety) techniques. These techniques are designed to calm frazzled nerves and create an even more relaxing environment where care can be performed smoothly and safely – no fear required. Please contact us if you're interested in scheduling a first appointment for yourself or a loved one.
Nitrous Oxide Sedation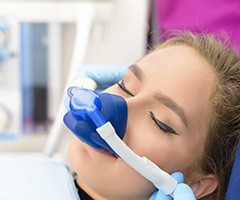 Nitrous oxide ("laughing gas") is the most commonly used form of sedation in dental care today, and it's safe for all age groups. We will administer the gas through a mask that fits over the nose, and the effects should begin after a few minutes of breathing it in. Patients should feel much more content and peaceful while still remaining awake. After we've completed the treatment and removed the mask, recovery should be a fast process as well. In fact, most patients can even drive themselves home afterwards, with no downtime required.
Anti-Anxiety Medications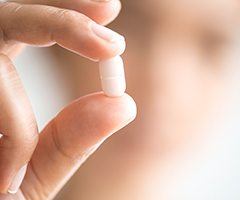 If you need a stronger form of sedation than what nitrous oxide can provide, we can consider some pharmaceutical help. This process is as easy as taking prescribed medication. Patients will remain awake, but they'll enter a deeper state of relaxation that will last throughout their appointment. Many won't even remember much about the experience at all, which is preferred. If you do select oral conscious sedation, keep in mind that a trusted escort will need to drive you to and from our location.