Implant-Retained Bridge – Charlottesville, VA
Bridging the Empty Space in Your Smile
If you are missing multiple teeth, you know all too well the struggles that come with an incomplete smile. You may find it difficult to eat a robust diet, and your gums may quickly become irritated. The gaps in your mouth may even cause you some embarrassment. Fortunately, you do not have to put up with such issues forever. At Blue Ridge Dental, we can use dental implants in Charlottesville to seamlessly fill in the gaps in your smile and help you regain full dental function.
Two Consecutive Missing Teeth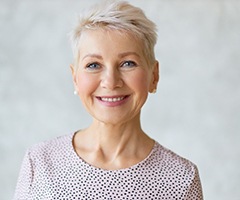 If you have two missing teeth in a row, we will likely just need one dental implant to replace both of them. The implant will go into your jawbone. Over a period of a few months, it will fuse to the tissue around it, a process that ensures it will provide the sturdiest base possible for your new teeth. Then, we will place a two-unit bridge on the implant. It will have one crown, which will go directly on top of the dental implant, and a pontic (artificial tooth), which will be supported by the crown.
Three or More Consecutive Missing Teeth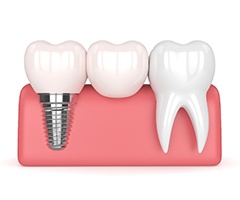 If you have three or more missing teeth in a row, your dentist in Charlottesville will likely place one implant at each end of the gap. Each implant will support a crown, and the crowns will hold 1 – 3 pontics between them. For patients who are missing more than five teeth in a row, we may need to use more than two implants to ensure that the new teeth have all the support they need to function at their best.
Multiple Missing Teeth Throughout an Arch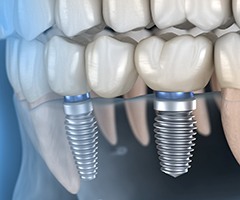 What if your missing teeth are not adjacent to one another but instead are spread out throughout a dental arch? You may still be able to take advantage of dental implants. We'll carefully evaluate your oral health and recommend a treatment plan. It is possible that an implant-supported partial denture is the ideal solution to your tooth loss. This type of prosthetic may require just a few dental implants to provide you with sturdy, reliable function.
Benefits of Implant-Retained Bridges or Partial Dentures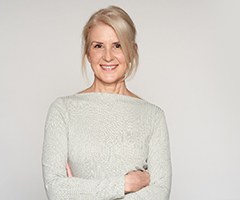 Implant-supported bridges and partial dentures provide numerous benefits:
A strong bite force. You will be able to enjoy virtually any food without worrying that your new teeth will become destabilized.
Improved jawbone health. Dental implants stimulate the bone, helping to prevent the deterioration that typically occurs after tooth loss.
No need to modify healthy teeth. A traditional dental bridge relies on the support of the remaining natural teeth; those teeth must be modified in order to fit beneath crowns. Implant-supported prosthetics are self-supporting, so they allow your natural teeth to retain their original shape.
With proper care, dental implants have the potential to last for 30 year or longer.
Are you ready to learn more about dental implants and how they may be able to rebuild your smile? Contact us today to schedule a consultation or ask questions about our practice. We can't wait to welcome you as a new patient!