Invisalign - Charlottesville, VA
Get a Straight Smile with Clear Aligners
A straight smile is not only important for your self-esteem but your oral health as well. To correct alignment and bite concerns, you now have an alternative to traditional metal braces. Invisalign in Charlottesville offers a discreet and convenient solution to get a healthy, straight smile. At Blue Ridge Dental, we help teens and adults enjoy the clear choice in orthodontics to create picture-perfect smiles.
How Does Invisalign Work?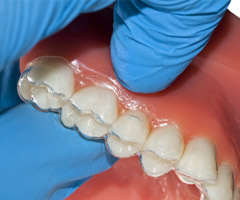 Invisalign is an FDA-approved treatment to correct a variety of alignment and bite issues. It differs from metal braces because no brackets or wires are used to move the teeth. Instead, your cosmetic dentist in Crozet takes digital impressions of your teeth. Using innovative software, a map is created to move them into their ideal positions. The information is then transferred to a series of aligners to gradually reposition your teeth.
Why Patients Love Invisalign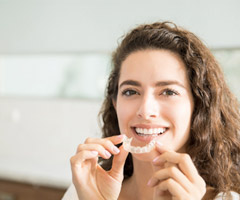 Since no brackets or wires are necessary, Invisalign allows you to enjoy various advantages that are not possible with metal braces:
Appearance: The aligners are made from clear, BPA-free plastic. Their translucent appearance allows them to be virtually undetectable to feel confident during your treatment.
Comfort: The aligners are custom-fit, so you will not need to worry about any slipping. They are also smooth to prevent irritation to the inside of your lips or cheeks.
Convenient: You will spend less time in the dental chair because you do not need adjustments since no wires are used.
No Dietary Restrictions: The aligners are removable, so you can still enjoy your favorite foods; however, do not have anything except water while wearing them.
Easy Oral Hygiene: There are no brackets or wires to clean around when brushing and flossing.
Easy Maintenance: Cleaning the aligners is simple using a soft-bristled toothbrush and a clear antibacterial soap.
Quick Results: The average treatment only takes about 12 months.
Cost of Invisalign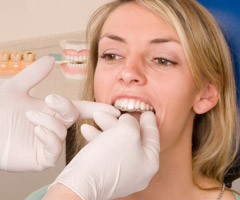 There are various factors that influence the amount you can expect to pay for your straight smile because the cost is determined by your individual treatment plan, such as the number of aligners you need. During your consultation, we explain your treatment process and payment options. In some cases, your dental insurance may cover a portion of the cost.
Invest in a Straight Smile Today!
If you are a teen or an adult who wants to skip the hassle and visibility of metal braces, Invisalign may be the solution for you. We perform the comprehensive examination you need to help you achieve the smile of your dreams. Contact Blue Ridge Dental today to schedule your consultation for the clear choice in orthodontics.
Invisalign FAQs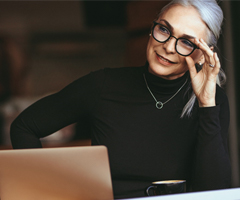 Are you still wondering if Invisalign in Charlottesville is the best option to restore your crooked, misaligned, or crowded teeth? This modern orthodontic solution is great for patients of all ages who aren't keen on the thought of living with traditional metal braces. Unlike Smile Direct Club and DIY braces, you'll get an individualized plan specially crafted for your mouth. Plus, our professionals will walk you through the process in person, so you know exactly what to expect. If you'd like to learn more, we've compiled some common questions that we get from patients below.
Does dental insurance cover Invisalign?
Before you decide that Invisalign is the best option for you, be sure to check with your dental insurance company to see if the treatment is covered. Even if it's not, at Blue Ridge Dental, we offer several financing options like payment plans through CareCredit and Lending Club. Plus, their financing plans are flexible and have little to no interest.
Are the aligners uncomfortable to wear?
As with any orthodontic appliance, your mouth will need to get used to it before it doesn't feel odd or uncomfortable anymore. With Invisalign aligners, they're made from a smooth, FDA-approved plastic that is gentle on your oral tissues and made to the specifications of a dental professional. Typically, it just takes a couple of days to get used to your new series of aligners. and the entire treatment is relatively pain-free. You can help ease any pain by switching to your new trays at night, so you sleep through a large portion of the adjustment period.
How is getting aligners from a dentist any different from purchasing them online?
You've probably considered getting your aligners from an online service like Smile Direct Club because you noticed it's cheaper. While it's less expensive, there's a complete void of communication and personalized treatment, unlike if you were to visit your cosmetic dentist in Charlottesville.
With Invisalign, you'll get a hands-on approach that will deliver the best results for your unique smile. Plus, your impressions are taken in office by a trained professional, ensuring that you'll get aligners that are comfortable and perfectly fitted to your mouth. This can have a drastic impact on the end results as well.
What should I do if I lose or damage an aligner?
Be sure not to force a damaged aligner back into your mouth. Instead, contact our office so we can guide you through what you should do. Depending on how far into your series you are, we may instruct you to move to the next set, or we may need to order you a replacement. Don't put it off! Be sure to contact us as soon as you notice damage or lose your trays so we can keep you on track with your timeline.
Will I need a retainer after I finish my treatment?
After your Invisalign treatment, you'll need to wear a retainer to prevent your newly-adjusted teeth from shifting back into their original positions. Depending on your cosmetic dentist's recommendation, you may need to wear it around the clock for months. After that, you could just need to wear it at night. If you're concerned about taking care of a retainer and are looking into other options, you may be eligible for a permanent one that's attached to your teeth.