Cosmetic Dentistry in Charlottesville and Crozet Can Transform Your Self-Confidence
Your smile can say a lot about you to the people you come in contact with every day – but is it saying the right things? Stains, cracks, gaps, and other dental flaws can gather on teeth over the years, chipping away at self-esteem and making you feel embarrassed every time you look in the mirror. Thankfully, cosmetic dentistry can provide beautifully stunning improvements! Our doctors would be happy to help you explore your options, so please contact either of our office locations in Charlottesville and Crozet, VA.
Porcelain Veneers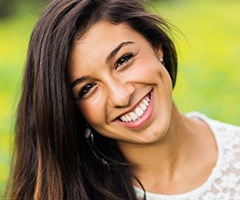 If you'd like to give certain teeth or even your overall smile a complete redesign, veneers are a great way to accomplish this. This type of restoration is very thin in nature so that it can comfortably and naturally fit over the front surfaces of teeth. All at once, years of frustrating cosmetic issues can be safely hidden from view behind a new, attractive look. Some patients even choose to use veneers as "fast orthodontics," correcting gaps and misaligned teeth in just a few appointments instead of years.
Learn More about Porcelain Veneers
Metal-Free Restorations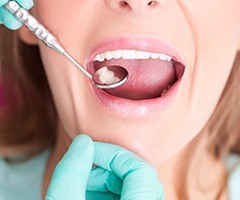 Older patients will surely remember the days when gold and silver restorations were the only option available to repair teeth. Thankfully, our doctors can now offer you the perfect marriage of functional durability and aesthetic value with metal-free ceramics! This material is high in quality and designed to be very similar to the look and feel of natural tooth enamel. We can design crowns, inlays, onlays, and other restorations that will fit right in alongside the rest of your smile with no one around you being the wiser.
Learn More about Metal-Free Restorations
Invisalign®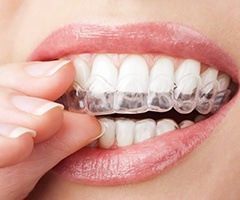 Invisalign is the perfect orthodontic option for patients who wish to achieve straighter smiles, but just can't commit to years of wearing metal braces. There's no wires or brackets to worry about with this modern system – only clear plastic aligners that are designed to represent each stage of your smile's gradual movement. When worn, most people passing by won't even notice the subtle aligner, and their removable nature makes it easy to maintain your daily routine without any eating restrictions or brushing and flossing difficulties.
Direct Bonding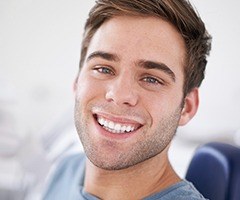 Direct bonding is a fast and popular cosmetic method that's perfect for patients with small dental flaws that are chipping away at their confidence over time. We'll use the perfect shade of composite resin (the same material used for tooth-colored fillings) to sculpt over the tooth and hide the imperfection from view. Then, one of our doctors will harden the resin in place and polish it so that it looks and feels very natural. As long as you care for the improvement with regular oral hygiene and professional checkups, it can last for several years.
Teeth Whitening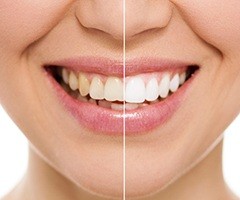 Maintaining white teeth over the years is actually harder than it sounds. There are several factors that can stain and discolor enamel including coffee, wine, certain medications, and even genetics. If you're dissatisfied with your smile's current glow, teeth whitening here in Crozet and Charlottesville can lend a helping hand. Our team offers both fast in-office whitening and take-home kits that can create dramatic improvements in whatever time span you prefer.
Learn More About Teeth Whitening
Gum Grafting
If you've experienced soft tissue recession or you have noticeably darker gums after dental implant placement, a cosmetic gum graft may be just what you need. These procedures can be an effective way of improving your smile's appearance as well as increasing dental function. Gum grafts also help to reduce dental sensitivity when soft tissue recession reveals the parts of your tooth that are thinnest, allowing heat and cold to more readily access the tooth's nerve structures.