Invisalign for Spaces Between Teeth
Say Goodbye to Unwanted Space
If you are one of the many individuals who no longer thinks it's "cute" to have a gap between your teeth, it's time to consider Invisalign in Charlottesville. At Blue Ridge Dental, our team of dentists can eliminate unwanted space between teeth and give you the new and improve smile you've always dreamed of. What is great about Invisalign is that it not only offers a more discreet method of orthodontic treatment, but it also reduces your risk of developing tooth decay, gum disease, and cavities by closing the gaps. If you're ready to find out if Invisalign is right for you, contact us today!
Why Are My Teeth Gapped?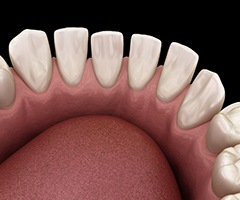 Gapped teeth can happen for a variety of reasons. Every patient is different, so while your best friend's gap may be the result of genetics, yours could be the result of any of the following:
Gum disease
Thumb-sucking or pacifier use as a child
Missing teeth
Tongue thrust
Large frenulum (lip tie)
At one time, your gapped smile might have been considered "cute" or "adorable," but as an adult, you want to do something about the health and aesthetic of your smile. Not only can these gaps cause problems when it comes to effectively cleaning your teeth, but it can lead to an increased risk for all types of dental problems, including a poorly aligned bite.
Am I a Good Candidate for Invisalign?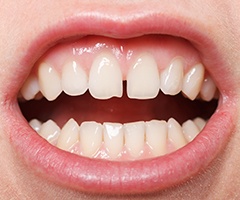 The only way to determine if you are a qualified candidate for Invisalign is to undergo a consultation with one of our team members. Your cosmetic dentist in Charlottesville will examine your oral cavity and determine if Invisalign is the best solution to fix your problem. Some individuals have such a large gap that only traditional braces can help a person achieve desired results.
As long as you have good general oral health, and your dentist deems your orthodontic problem eligible for treatment, you should be ready to go with Invisalign.
How Does It Work?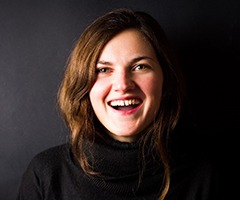 Invisalign consists of clear, plastic aligners that gently move your teeth in the proper direction. When it comes to wearing these trays to fix spaces between teeth, you will notice each time you swap out your trays that your teeth slowly move closer together. As long as you commit to wearing your aligners for 20-22 hours each day for 1-2 weeks at a time, you will begin to see results.
Forgoing your trays or forgetting to put them back in after eating, drinking, or cleaning them can cause a delay in achieving desired results.
Throughout treatment, you will be expected to maintain regular dental checkups with us to ensure you are on the right track and making progress toward a healthier smile.
Benefits of Invisalign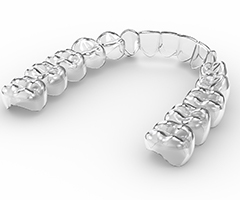 A discreet, subtle orthodontic solution that doesn't compromise your daily appearance
An easy to clean option for individuals who want to avoid maneuvering around metal brackets and wires
Minimal irritation to your soft oral tissues because there is no protruding metal
Faster results than if you were to seek treatment with traditional braces
A flexible alternative to metal braces, as you can remove your trays to eat, drink, and clean them