Cost of Dental Implants
An Affordable Way to Restore Your Smile
Getting dental implants is an exciting prospect, but like with any dental procedure, you'll need to think about the cost first. Unfortunately, it's hard for us to give a general price range for implants because every patient has different needs and will require a unique treatment plan. The good news is that once we've had a chance to look at your mouth, we can start narrowing down the price until we can give you a reliable estimate. Contact us today to schedule a consultation and get started figuring out the cost of dental implants!
Types of Dental Implants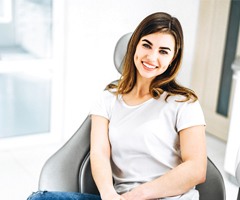 First things first: what kind of dental implants do you need? Do you just need a single post and crown to replace a single tooth? Is there a wider gap to be filled in with a pair of implants and a bridge? Or are you going to need implant-retained dentures for all the missing teeth in your upper or lower jaw? Each case is different, and the number of missing teeth you have will have a large impact on the type of restoration you get – and thus will significantly affect the overall cost. (Also, keep in mind that if you're getting dentures, you'll need to pay for any remaining teeth to be extracted.)
What are the Stages of Dental Implant Treatment?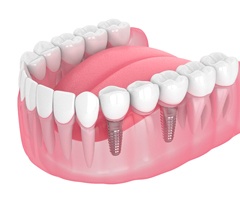 After your consultation, the first step will be to make sure your mouth is healthy enough to receive implants. That could mean getting a bone graft or periodontal therapy, but of course these procedures will only be performed if necessary. Once your jaw is ready, the implant posts can be placed via surgery. The next step after that will be to place an abutment, and of course the final step is to top the implant with a false tooth. Each stage has a separate cost, which is something you'll need to keep in mind when planning your budget for dental implants.
Are Dental Implants Worth the Investment?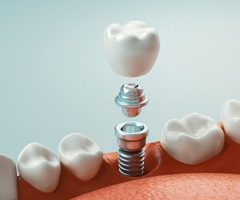 Dental implants may seem costly at first, but they're well worth the price. Unlike traditional dentures, they won't slip at inconvenient moments, and there aren't any diet restrictions to worry about. They're the only type of restoration that stops bone loss in your jaw, and many patients say they feel almost like natural teeth.
It's important to take the longevity of dental implants into account when thinking about the cost. Regular dentures and bridges only last about 5 to 15 years before they need to be replaced, but in many cases, implants will last the rest of your life – meaning you won't have to pay for new ones.
Does My Dental Insurance Cover Dental Implants?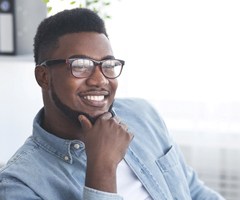 Not every plan will pay for implants; you'll need to check with your insurance carrier. Even if the implant surgery itself isn't covered, your plan might still be able to help with the cost of the restoration or other related procedures.
Our practice works with many different insurance companies. If you don't have a dental plan, feel free to ask about the discounts offered by our in-house savings plan. We can also help you create a payment plan through CareCredit.