June 9, 2018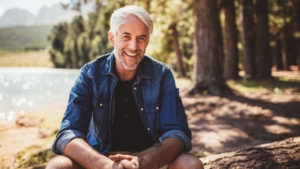 Are you dealing with the side effects of significant tooth loss? Dental implants are a wonderful replacement option — no matter how many teeth you're missing. All-on-4 is a special type of dental implant method that can give you back an entire arch of teeth on as few as 4 dental implants. Sound like it might be a good option for your smile? Keep reading for the top 4 signs you're eligible for All-on-4.
Is All-on-4 Right for You?
#1: You Are Missing 5+ Teeth
The All-on-4 method is reserved for cases of substantial tooth loss. Because the dental implants used are longer than the traditional type, they can draw maximum support from the jaw bone. This means that a full arch of teeth can be replaced using far fewer implant posts than would be possible with the traditional method. If you have lost many teeth, All-on-4 may be a great option for your smile.
#2: Many Teeth Are Damaged
Maybe you still have teeth — but perhaps they are weak, worn, broken, and/or damaged. If this is true, they may need to go to protect your oral and overall health. Tooth extraction requires replacement, and All-on-4 may be the best option. This treatment can help patients enjoy the many benefits of dental implants without having to get an individual implant for each missing tooth.
#3: You've Had Periodontal Disease
Patients who have had periodontal (gum) disease may believe they are ineligible for dental implants due to bone loss. Traditional implant procedures may call for a hefty amount of bone grafting before the posts can be placed — but All-on-4 dental implants often eliminate the need for this step. If you have been told you are not a good candidate for dental implants due to periodontal disease, there may be hope with All-on-4.
#4: You Have a Loose Denture
One of the most encouraging thing about All-on-4 dental implants is that many times, they can secure an existing loose denture. If you can't get through a meal without your teeth slipping and sliding around, or if you have uncomfortable oral sores as a result of your poor-fitting prosthetic, All-on-4 dental implants may be just what you need to eat, speak, and smile with confidence once again.
Visit Your Implant Dentist to Find Out
The only way to know for sure whether or not you are eligible for All-on-4 is to visit with your dental implant dentist. These are just 4 of the many factors that may make you a great candidate for this tooth replacement option — don't hesitate to find out if this type of dental implant treatment is right for you!
Meet the Practice
The team at Blue Ridge Dental offers convenient and comfortable dentistry for Charlottesville & Crozet friends and neighbors. Their restorative dentists provide full-service implant dentistry from this state-of-the-art practice. No referrals, no outside offices! Get in touch to discuss All-on-4 by calling them at 434-823-2385 today.
Comments Off

on Dentist on 4 Reasons You May Be Eligible for All-on-4
No Comments
No comments yet.
RSS feed for comments on this post.
Sorry, the comment form is closed at this time.