August 8, 2018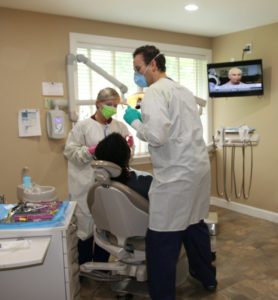 In an effort to help neighbors and other members of the community, the dentists at Charlottesville and Crozet Blue Ridge Dental have teamed up with Charlottesville Oral Surgery in order to provide dental care for those in need. Thanks to the dentists and surgeons at these practices, 70 patients got to receive treatment for their dental pain completely free of charge.
To learn more about the family dentistry in Crozet and why Dr. Minutella teamed up with oral surgeons to help those in need, keep reading!
What is Dental Day?
Dental day is meant to directly improve the lives of people in the community who are suffering from chronic dental pain. For many neighbors, readily-available access to dental care is not possible, either because they lack the money or don't get the services they need. In order to ease their pain and suffering, Dr. Nick Minutella and Dr. Ibanez from Charlottesville Oral Surgery teamed up to help dozens of patients get the treatment they need.
For no charge, the dentists performed tooth extractions, limited dental exams and X-rays in order to pinpoint the exact cause of people's tooth and head pain and then remove it.
How Did Dental Day Start at Blue Ridge Dental?
Dr. Schoeb, who's the main dentist at the Crozet location of Blue Ridge Dental, planned a dental day event a few years ago in tandem with Dr. Ibanez to help the community. After seeing a healthy turnout of about 200 people, Dr. Minutella wanted to contribute his time and expertise as well.
With 70 patients treated in a single day, it just goes to show that people want to get their teeth fixed and pain removed, but often can't because of financial or physical barriers. Getting people out of pain is one of his favorite parts of being a dentist, and Dental Day is the perfect solution for helping those in need.
At one point during Dental Day, the dentists were able to help three generations of patients, a grandmother, a mom and two kids. As a bonus, they ended up calling the practice back and becoming full-time patients, which is always great to hear.
How Does Dental Day Benefit People's Lives?
If you've ever had dental pain before, then you understand how much of a negative impact it can have on your life. When you're suffering from chronic tooth pain, it makes it incredibly difficult to perform basic tasks that you're used to, even if they don't involve speaking or chewing. Tooth pain often leads to head pain, and if you've ever had a headache or a migraine that simply wouldn't go away, you can imagine how much relief people had once their damaged teeth were finally extracted.
In conclusion, our team members are incredibly proud and honored to have such caring dental professionals in the Crozet and Charlottesville community ready to help those in need. If you're seeking dental treatment, schedule an appointment with a dentist in Crozet!
About the Author
Dr. John C. Schoeb has been serving the community of central Virginia since 2007. He's always keeping patients informed of their needs and helping them decide on the next best steps to take. This has allowed him to mesh incredibly well with the community and provide better dentistry as a result. To learn more about his practice, you can contact him through his website.
Comments Off

on Family Dentistry in Crozet Provides Dental Care for the Community
No Comments
No comments yet.
RSS feed for comments on this post.
Sorry, the comment form is closed at this time.