January 3, 2020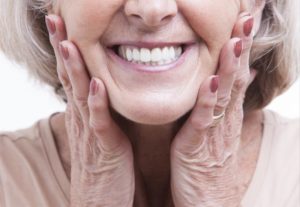 According to the American College of Prosthodontists, about 178 million Americans are living with at least one missing tooth and about 40 million have no natural teeth remaining. As a result, there are quite a few options about there to replace missing teeth, including dentures and dental implants. But how can you decide which of them is right for you? Read this guide for some help with making that choice.
What Are Dental Implants?
Dental implants are basically artificial tooth roots and are the only solution to tooth loss that replaces the lost root as well as the crown. These titanium posts are surgically anchored to your jawbone. Over a few months after placement, the implant post will fully integrate with your jawbone until they are essentially part of the same structure. After that, your implant will be topped with a crown to restore its function and appearance.
What Are Dentures?
Dentures are false teeth that are attached to a gum-colored acrylic or plastic base. They are removable, so patients often take them out at night. During the day, they are held in place with a combination of denture adhesive and natural suction.
Dentures can be either full or partial. Full dentures are what we typically think of when someone says the word "dentures." They replace an entire arch of teeth. Partial dentures only consist of however many teeth the patient is missing, and are secured with clasps or hook that attach to any remaining teeth.
Which One Is Better?
More often than not, it's best to get an opinion from your dentist as to which option would be a better fit for your mouth. However, most dentists would recommend dental implants over dentures.
Implants are the sturdier, longer-lasting choice. Because they are placed directly into the jawbone, they prevent the bone atrophy that typically comes with tooth loss. Dentures do not, as they only replace the crowns of the teeth and not the roots. When your jawbone deteriorates after tooth loss, it can make your facial muscles sag. So, dental implants keep you looking young.
If you're missing all your teeth, don't worry. Dentures aren't your only option. You could get something called implant-retained dentures. Your dental prosthesis is held in place with an average of four to six dental implants placed strategically throughout your jawbone to prevent bone loss and anchor the dentures.
Ultimately, it's up to your dentist to decide whether you should get dentures or dental implants. However, your dentist will most likely highly suggest getting implants. They allow you to stay looking youthful and bright. Again, schedule a consultation with your dentist just to be sure they're right for you.
About the Author
Dr. Nick Minutella is a graduate of the University of Maryland Dental School. He is a member of several professional organizations and keep up to date on the latest treatments and technologies that modern dentistry has to offer through continuing education. He can place and restore dental implants all in one convenient location in either Charlottesville or Crozet, VA. To schedule a consultation, click here to contact Dr. Minutella's office.
Comments Off

on Which Should You Get: Dental Implants or Dentures?
No Comments
No comments yet.
RSS feed for comments on this post.
Sorry, the comment form is closed at this time.