June 17, 2020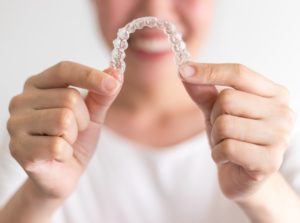 If you want straighter teeth but don't like the idea of having a mouth full of metal wires and brackets, then Invisalign in Charlottesville might be for you! These clear plastic aligners gradually straighten teeth more comfortably and conveniently than traditional metal braces. However, as with any type of orthodontic treatment, the length of time it needs to shift the teeth into alignment varies from person to person. Your Charlottesville cosmetic dentist explains a few important factors that will determine how long it will take for you to get a beautifully straightened smile with Invisalign.
What Factors Influence the Duration of Invisalign?
On average, Invisalign treatments usually take about 12 months to complete. However, some patients will need to wear their aligners for 18 months while others may only need six months. This is because treatment time is based on a variety of variables, like:
Amount of movement needed: The more your teeth need to be repositioned, the more time your treatment will take.
Which teeth need moving: A small front tooth with a single short root will be much less difficult to move than a large molar with multiple roots.
Change in bite needed: Invisalign can be used to address overbites and underbites. However, this typically involves moving all the teeth, which will increase the length of treatment.
The patient's age: Generally speaking, teenage teeth are easier to move and are more responsive to treatment. Adult teeth may take a little longer because the bones of the jaw are fully hardened and patients usually have more complex issues.
Can You Speed Up Invisalign Treatment?
If you're impatient to get your newly straightened smile, you may be tempted to switch to your next set of aligners sooner than recommended. However, putting too much pressure on your teeth at one time can damage your gum tissue and break your roots. Eventually, you can end up with intense dental pain, permanent jawbone damage, and even tooth loss. Trying to jump ahead in your treatment can cost you more time and discomfort in the long run.
The fastest way to get a straighter smile is to follow your dentist's instructions. Make sure you are wearing the correct set of aligners for at least 22 hours every day and visiting your Charlottesville dentist for checkups regularly. With the right compliance, you can achieve healthy, straightened teeth within a relatively short amount of time!
About the Practice
The dedicated team of Blue Ridge Dental is proud to provide convenient, comfortable, and effective dentistry to the smiles of Charlottesville, VA. They go above and beyond to make every appointment as enjoyable as possible. Featuring a team of highly trained dentists, they use the latest dental techniques and technologies to help their patients achieve beautiful, lasting results. If you'd like to learn more about Invisalign, feel free to reach them via their website or at (434) 978-1510.
Comments Off

on How Long Will It Take to Straighten My Teeth with Invisalign?
No Comments
No comments yet.
RSS feed for comments on this post.
Sorry, the comment form is closed at this time.