August 10, 2020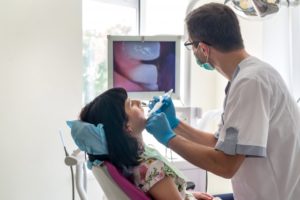 Thanks to state-of the-art dental technology, maintaining a happy, healthy, and beautiful smile has never been easier. One of the most important innovations to be used in modern dentistry is the intraoral camera. This small device plays a big part in helping your dentist detect developing cavities, tarnished fillings, hairline fractures, and other issues that can't be seen with the naked eye. Here are six important benefits of choosing a dentist who utilizes an intraoral camera in Charlottesville.
1.) Identify Problems as Early as Possible
With an intraoral camera, your dentist can quickly discover the earliest warning signs of oral health issues that you may not be able to see or feel yet. This allows them to treat problems before they become more difficult to address or cause you unnecessary damage or discomfort.
2.) Learn More About Your Own Oral Health
With the help of a chairside screen, your dentist can use an intraoral camera to show you high-resolution pictures of your own mouth in real time. When your dentist is able to show you exactly how well your teeth and gums are doing, you'll be able to better understand how to care for them.
3.) Feel 100% Confident About Your Treatment
Transparent and compassionate dental care creates the foundation of choosing a treatment option confidently. Your dentist can use an intraoral camera to demonstrate the extent of your problem and more easily explain the importance of your treatment, which can help reduce your anxiety and further your trust with your dentist.
4.) Enjoy Precise, Accurate Care
Intraoral cameras feature a rotating head, LED lighting, strong magnifying capabilities, and other important aspects. A better, more detailed view of your teeth and gums helps your dentist quickly and correctly identify issues, then treat them with even grater precision.
5.) Keep A Better Eye on Your Dental History
Many changes in the mouth occur gradually over a long period of time. The high-resolution images and videos captured by an intraoral camera can be stored in your dental file. Then, during your next visit, they can be compared to the current state of your smile to see if anything has changed.
6.) Make Filing Insurance Claims Easier
Typically, dental insurance providers need a clear idea of your dental issue in order to cover the cost of your treatment. Images captured with an intraoral camera offer visual proof to support patient claims. Additionally, since the digital photos and videos are readily available, an intraoral camera can help save a lot of time and hassle for everyone involved!
When was the last time you took a close look at your pearly whites? An intraoral camera can help your dentist inspect the state of your smile and keep it happy and healthy for many years to come.
About the Practice
At Charlottesville Blue Ridge Dental and Crozet Blue Ridge Dental, helping you achieve the happy, healthy smile you deserve is our number one priority. We've outfitted our practices with state-of-the-art dental technology like intraoral cameras and digital x-rays to ensure every treatment is as comfortable, precise, and effective as possible. Our highly experienced team of dentists would be happy to teach you more about your smile with one of these modern techniques, so feel free to reach us via our website or at (434) 978-1510.
Comments Off

on 6 Benefits of Choosing a Dentist with an Intraoral Camera
No Comments
No comments yet.
RSS feed for comments on this post.
Sorry, the comment form is closed at this time.