January 4, 2021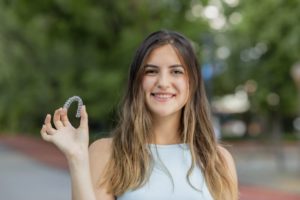 One of the most well-known benefits of Invisalign in Charlottesville is its practically invisible appearance. This unique orthodontic treatment offers a clear path towards getting a straighter smile without any embarrassing metal wires or brackets. However, that's only one advantage you can expect to enjoy! Here are five other great benefits Invisalign offers its patients other than its appearance.
1.) Invisalign Aligners Don't Need to Be Cemented to Your Teeth
For the metal wires and brackets of traditional braces to be effective, they need to be semi-permanently bonded to your teeth. In comparison, Invisalign uses a series of custom aligners that slip snugly over your teeth to gently nudge them into position. Each set is worn for a few weeks before being switched out for the next one.
2.) Keep Eating All Your Favorite Foods with Invisalign
Since Invisalign aligners are removable, you can continue to enjoy all your favorite foods and drinks during your treatment! Simply take out your aligners, enjoy your meal or snack, then give your teeth a quick brush before popping them back into place. As long as your aligners don't come into contact with any foods or drinks, they should stay safe and clean.
3.) Spend Less Time on Orthodontic Checkups
Traditional braces require frequent visits to your dentist to have your wires tightened. The adjustments are what helps pull your teeth into alignment. Since Invisalign relies on a prefabricated series of aligners, this step is eliminated completely! You'll only need to come in every few weeks to make sure your treatment is staying on track and to pick up your next few aligners.
4.) Invisalign Aligners Promote Better Oral Health
It's notoriously difficult to brush and floss around traditional braces. As a result, it's much easier to develop discolored teeth and cavities during your treatment. Thankfully, since Invisalign aligners are removable, you can keep practicing all your daily dental habits easily! Just remove your aligners to floss and brush your teeth as usual and rinse your aligners off to keep your smile healthy and sparkling.
5.) Enjoy a Faster & More Comfortable Treatment with Invisalign
Invisalign aligners don't have any sharp, poking metal wires or brackets to irritate your soft tissues. Instead, they're crafted out of a single piece of biocompatible plastic that should glide effortlessly past your lips, cheeks, and tongue. Overall, patients are happy to report a much more comfortable straightening experience with Invisalign than patients with metal braces. What's more, Invisalign aligners can often achieve beautiful results in much less time than traditional braces!
It's never been easier, more convenient, or more comfortable to get a straighter, healthier smile. Talk to your Charlottesville dentist today to see if Invisalign is right for you!
About the Practice
At Blue Ridge Dental, we strive to make it easy for the families of Charlottesville, Crozet, and the surrounding communities to get the healthy smiles they deserve. That's why we're pleased to offer free straight smile consultations as well as special offers on Invisalign treatments. Our talented team of experienced dentists use state-of-the-art dental technology and a true commitment to your satisfaction to ensure every appointment is as pleasant as possible. To see if Invisalign is right for you, we can be contacted via our website or at (434) 978-1510.
Comments Off

on 5 Great Benefits of Invisalign Other Than Their Appearance
No Comments
No comments yet.
RSS feed for comments on this post.
Sorry, the comment form is closed at this time.